New web site of our Nursery has just started. Information from the previous site has been enriched with new texts and supplemented with numerous photographs.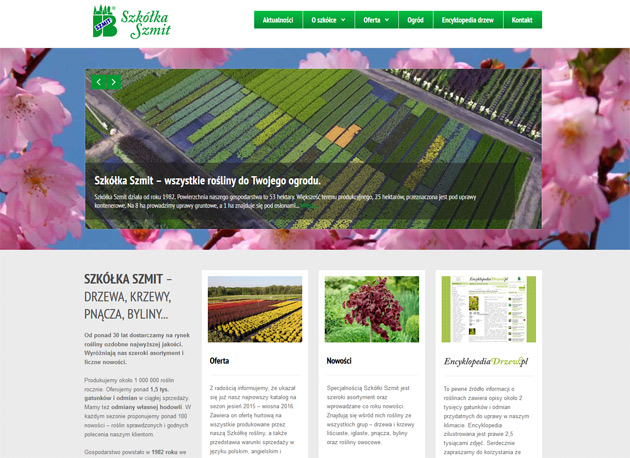 We recommend to pay special attention to new bookmarks in the "Offer" section, where you can find information about our entire assortment, selection of plant novelties, as well as collection of photographs with descriptions regarding quality of plants that we offer, their production and packaging. Linking of particular plants available in our offer with detailed specifications from our site EncyklopediaDrzew.pl seems to be very convenient. Thanks to the above one can quickly check, among others, ultimate image and dimensions of a given plant, blooming and fruit-bearing time and colour or cultivation conditions and requirements (soil, exposure to sun, frost hardiness etc.).

Enthusiasts of gardens will be for sure interested in a gallery of photographs taken in our show garden, which is also available for visitors. It is worth to go to the section entitled "our varieties", where you can find photos and descriptions of plants selected by us. We hope that you will be interested in the contents of the new site with restored graphics and that each visitor will find something interesting for himself/herself.