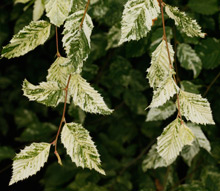 Low-growing, up to 6-8 m high tree with characteristic wide columnar, slightly pendant habit. Irregularly white variegated leaves constitute the most significant decorative element. The variety is completely frost hardy.
This variety is recommended to average size and large backyard gardens and parks. It can be planted as a single tree or in color groups as an element that brightens the composition. It is recommended to cut the tree regularly in order to have it constantly produce new shoots with beautifully colored leaves.
Variety bred by 
Feliks Rożański
in Podzamcze before 1905. It was found after almost 100 years by
Włodzimierz Seneta
, and introduced to cultivation by our Nursery.