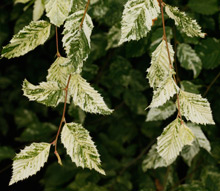 To niewysokie drzewo, dorastające do 6–8 m wysokości, charakteryzuje się szerokokulistym, lekko przewisającym pokrojem. Jego główną ozdobę stanowią nieregularnie biało upstrzone liście. Odmiana jest całkowicie odporna na mróz.
Ta odmiana grabu polecana jest do średnich i dużych ogrodów przydomowych oraz parków. Może być sadzona pojedynczo lub w grupach kolorystycznych, jako element rozjaśniający kompozycję. Aby drzewo to stale wytwarzało młode pędy z pięknie wybarwionymi liśćmi zaleca się jego regularne przycinanie.
Odmiana została wyhodowana przez 
Feliksa Rożyńskiego
w Podzamczu przed rokiem 1905. Odnalazł ją po prawie 100 latach 
Włodzimierz Seneta
w lata, zaś do uprawy wprowadziła Szkółka Szmit.